KIRK HAMILTON
CASE MANAGER | TRIAL & LITIGATION PARALEGAL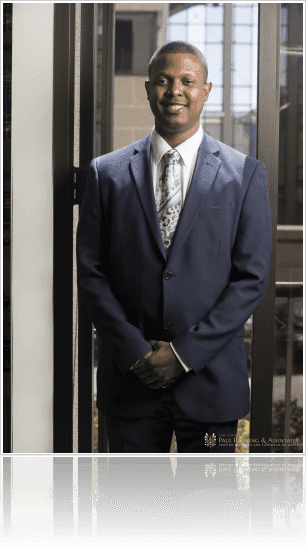 Mr. Hamilton became a paralegal after graduating from the University of Southern California in 2002 with dual degrees in Political Science and American Literature. Mr. Hamilton has also received a Certificate in Dispute Resolution from Southwestern Law School and was a judicial clerk for Judge Allen J. Webster of the Los Angeles Superior Court.
With over 15 years of working legal knowledge, Mr. Hamilton has developed acumen in a wide array of legal fields, including Business Litigation, Employment Litigation, Entertainment Litigation, Intellectual Property, Habitability Claims, Legal Malpractice, Family Law, and Personal Injury cases related to Motor Vehicle Claims, Premises Liability, Products Liability, Construction Defect, Elder Abuse and Mesothelioma Claims as a result of asbestos exposure.
Mr. Hamilton has worked in almost all aspects of cases, from inception through trial and into the appeals process, and has been instrumental in obtaining numerous favorable outcomes, including:
Aiding in obtaining a favorable Arbitration decision wherein our client land developer was found not at fault for a breach of contract and instead received a reimbursement of $25 million dollars;
Obtaining a $4.75 million dollar settlement in a premises liability matter;
Effectively categorizing the parties and issues in a complex class action lawsuit brought against a municipality which resulted in a favorable multi-million dollar verdict for the class;
Guiding a client through the difficult and tedious process of suing a celebrity employer for unwanted sexual advances, eventually leading to a generous confidential settlement; and
Defending the interests of a large metropolitan transportation company in a wrongful death case based on the negligent actions of the decedent.
Mr. Hamilton is also a member of his local church, the Democratic National Committee, the USC Alumni Association and occasionally volunteers throughout the community. He is energetic, friendly and determined to put a priority on the needs of the firm and our clients.
LANGUAGES